The front of the Green Card is divided into boxes numbered from 1 to 11 containing the following information:
Box 1: Green Card title

Box 2: The name of the national Bureau under which the document is issued

Box 3: Validity dates (two or four figures for the year)

Box 4: Country code / Insurer's Code / Number
Country code: letter of the country of the Bureau under whose authority the Green Card was issued (France: F).
Insurer's code: code of the insurance company that issued the Green Card (three or four figures).
Number: any number considered relevant by the insurer (usually the policy number).

Box 5: Registration number / Chassis / Engine number

Boxes 6 and 7: Category and Make of vehicle

Vehicle category footnote:
A = Car
B = Motorcycle
C = Lorry / tractor
D = Cycle fitted with auxiliary engine
E = Bus
F = Trailer
G = Others

Box 8: Territorial validity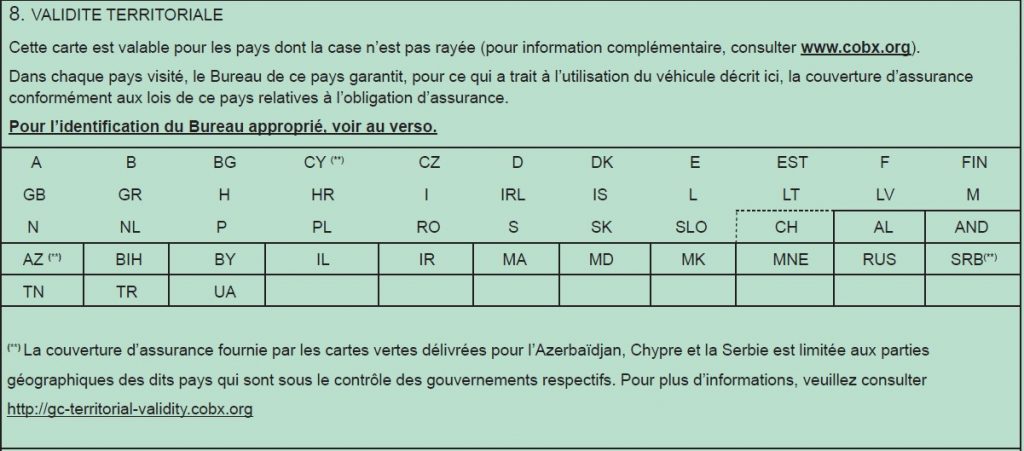 List of countries where you can travel without having to take out additional insurance: a Green Card issued by an EU Bureau must be provided for all EU countries and all other countries that have signed the multilateral agreement (your insurer [should not] strike out any of these countries but if another country's box is crossed out this means that you will not have third party liability cover).
Box 9: Name and address of the policyholder (or user of the vehicle)

Box 10: Name and address of the insurer

Box 11: Signature of Insurer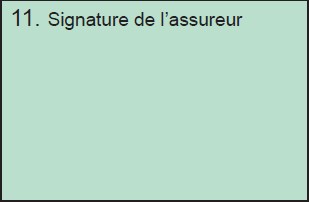 After the eleven boxes is a space called "useful information" that can be used by your insurer to add any kind of additional information that s/he believes relevant for you (other useful services offered, advice on what to do in case of accident, etc.).